We can welcome a new tenant in Edison Budaörs Office building.
The new tenant is Forrest-Vill Kft., which deals with the Design and Construction of Electrical and Energy Facilities.
Congratulations!
Péter Kosárka
Senior Leasing Advisor
Forrest-Vill Kft. was founded in 2015 by Hungarian private individuals. Although the company is young, its team of professionals has decades of experience in design, engineering, construction, commissioning, special engineering services and project management as well. They are developing dynamically and increasing their staff number and assets continuously.
Their main business activity is, besides the industrial energy supply and distribution, the reconstruction and construction of High Voltage (HV) / Medium Voltage (MV) substations, HV/MV transformer stations and HV/MV/LV networks.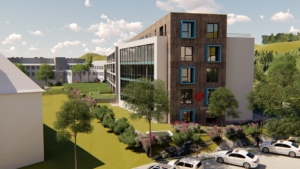 http://anlimited.net/wp-content/uploads/2021/02/logo-kek.png
0
0
LiMITED AN
http://anlimited.net/wp-content/uploads/2021/02/logo-kek.png
LiMITED AN
2022-06-10 20:13:38
2022-06-10 20:18:03
We can welcome a new tenant in Edison Budaörs Office building. – 2022 Q2