The biggest success of 2018 was the sale of an area of 30,000 m2 for Hungarian private investors.
Jysk is a Danish retail chain, selling household goods such as mattresses, furniture, and interior decor. Jysk is the largest Danish retailer operating internationally with over 3,100 stores in 49 countries.
Jysk was founded by Lars Larsen, who opened the first store on Silkeborgvej in the Danish city of Aarhus in April 1979.
Congratulations!
Attila Hopka
Managing director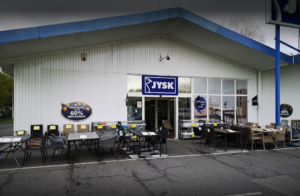 http://anlimited.net/wp-content/uploads/2021/02/logo-kek.png
0
0
LiMITED AN
http://anlimited.net/wp-content/uploads/2021/02/logo-kek.png
LiMITED AN
2018-07-11 10:09:05
2022-08-05 08:50:09
Successful sale of 30,000 m2 industrial and commercial (Jysk) property on Késmárk Street on behalf of Atrium European Real Estate. – 2018